VDOT's project from Hell - I-81 in Bristol
---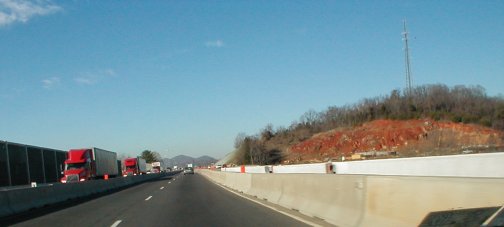 Expansion of I-81 in Bristol - a 5-mile stretch - is one major example of Virginia Department of Transportation (VDOT) management's ineptness and waste of tax dollars without accountability.
It is being built at almost a mile a year. It is 2 years behind schedule. It is 50% over budget. A fraud investigation is underway, but no one wants to discuss it "until the project is finished." One bridge suffered such major structural problems, tearing it down and starting over was considered, but instead it was repaired (the pier caps that held the bridge up were faulty). That 'repair' added considerably to the delay of the project.
Highway from Hell - by the numbers

Original VDOT Cost Estimate of 5 Mile Highway in Southwestern Virginia


$40,400,000

Current projected cost

$61,000,000

Current cost overrun
$20,400,000
Overrun in terms of percent
51%
Cost per mile
$12,200,000
Cost per foot
$2,310
School lunches bought with cost overruns @ $1.50 per lunch
13,600,000
School computers bought with cost overruns @ $900 per computer
22,667
Start date

1998

Original projected completion date

2000

Current completion date

Unknown

Road feet completed per project hour

2.53

Since 1998, almost one mile per year

5 Miles

Current vehicle usage per day

50,000

I-81 was built in Bristol 35 years ago and much of the problems today have to do with poor design and construction back then.
The design consulting firm on the current project is Dewberry & Davis of Fairfax. They have reportedly been given another job in southwestern Virginia. One VDOT spokesperson said there are complaints about the firm. VDOT says the investigation was initiated at its request. A spokesman for the state attorney general's office said the investigation was requested by some of the contractors/consultants on the job.
VDOT will not discuss details of the investigation of the costly, long-delayed project, but sources inside the agency since it began - an engineer said, the project has been one disaster after another.
EDITOR'S NOTE: Do you have a favorite highway horror story? If so email Editor@Virginianewssource.com or call 757-340-4686 with details. VDOT employees' reporting fraud, waste, & abuse by VDOT will be given full confidentiality protection by VNS.
See also: Taxpayer's Alliance holds press conference @ VDOT