21st District Delegate John Welch, a supporter of the November 5 referendum which will increase the sales tax by 22%, told Libertarians Saturday it would take 20,000 body bags to handle causalities in event of a major hurricane.
The most dangerous hurricane to hit the east coast was Hurricane Andrew in FL and only 8-10 people were killed.
Welch told how the tunnels would be closed in the event of a major storm, and that 20,000 body bags would be needed to take care of those trapped and unable to escape.
The remark brought several chuckles from the attendees who then began to question why the tunnels would be closed. Welch replied that was a state decision.
Basically what he was trying to tell the group was the pro-referendum story of how the tax increase is needed to improve U.S. 460 which would help evacuate residents of Tidewater in event of a major storm.
But never has a hurricane caused any such loss as to require 20,000 body bags.

Welch acknowledged there was a massive increase in state spending over the last four years at the same time voters wanted to eliminate the car tax.
He also stated that during the last final days of the Gilmore administration, the former governor authorized an additional $200 million in new road projects, knowing the upcoming financial stress the state was facing.
The 21st district representative also said that the general Assembly cut $110 million a month for 30 months in spending. Welch said, "My district lost four road projects", and that those losses were his biggest concern.
Libertarians vote to oppose tax referendum
Following the meeting, the Virginia Beach Libertarian Party voted unanimously to oppose the sales tax referendum.
The Libertarians are one of several groups that have united, both in Tidewater and Northern Virginia, under the Ax the Tax banner to oppose the 22% sales tax increase in the referendum.
For ever dollar Virginia Beach taxpayers send to Richmond, they only get back $0.82.

Asked about the fact with all the proposed billions from the tax increase none of the funds would reduce traffic congestion from Virginia Beach to downtown Norfolk or to the Navy Operating Base Norfolk, Welch acknowledged that statement was true. He then said, "If the referendum gets voted down, it won't bother him at all. We'll just have to go back to Richmond and start over again." He repeated several times that if the referendum failed it really won't bother him.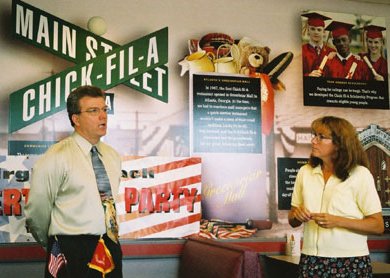 Welch talks with Libertarian chairwoman Dr. Michelle Vachris
Welch said that there is "$6.2 million spent on Virginia roads everyday for (just for) maintenance."