Will politicians ever stop lying and giving away our money?
5/22/02 - The $4.5 million lie Number 1: site of new office to be built by May 2002 is vacant. By this date it was supposed to be producing 600 $35,000 a year jobs. Ain't happening!
Headline Dec. 13, 2000: "Beach council votes to sell parcel to developer at a loss"
On this date the Silly Council sold Branwick Associates Inc., a Virginia Beach consulting firm, the old Days Inn, Unclaimed Freight and Lowe's Hardware building and property for $4.5M less than the city paid for the 11.9-acre property 4 years earlier. Did you get this? The city paid $5.7M for the property in 1996 and sold it to Branwick December 2000 for $1.2M - what a deal!
It will take 26 years for the taxes from the developer and property to repay the taxpayers' $4.5M loss from the sale.
At the time of the sale, the council/Branwick deal was that in exchange for getting the property so cheap, Branwick would build a 4-story office building. Construction would begin within 9 months from the Dec. 13 date. Here it is 2 years later and no construction has begun.
Headline Mar. 21, 2001: "Beach hotel razed for office"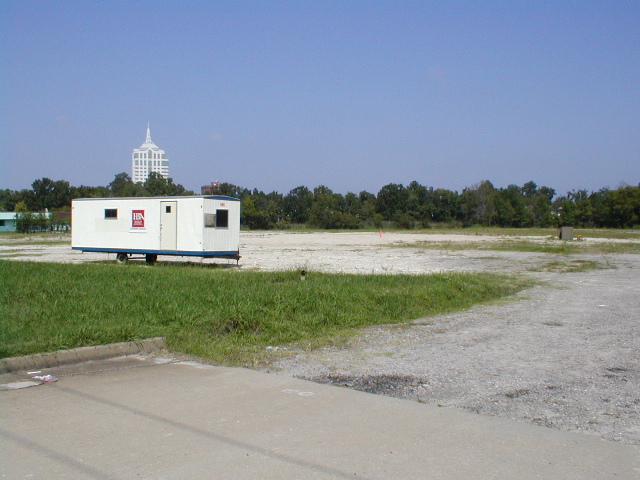 9/17/02 - The $4.5 million lie Number 2: Beach Economic Development Director Don Maxwell told the council: Approve this deal and the city will get $125,000 back in property taxes the first year it's built. It ain't built. And the city ain't getting $125,000 a year on an invisible office. It will take 26 years to pay back the $4.5M loss.
Branwick started demolition of the hotel and buildings on March 21, clearing the way for a $9.5 million 75,000 square foot office building that would return tax dollars to the city's coffers and would bring 600 new high paying jobs to the city said Robert Smithwick, Branwick president and CEO promised. Now get this: The building would be up, producing tax revenue to the city and be staffed by jobs with an average salary of $35,000 a year by May 2002. Did you get that: May 2002?
Now for our opinion:
9/17/02 - Now this is no lie: The only thing this $4.5 million loss to the taxpayers is producing is weeds.
Now ya all go out & vote for Oberndorf, Eure, Mandigo, Jones, & Wilson? They offer this typical fiscally responsible government like this!
---
Branwick was granted an extension by council because of unfavorable economic conditions, but within weeks, the company signed a $7M deal to build an industrial part in Radford - no money problems there.
The above documented transaction was produced by your favorite bureaucrats: City Manager James K. (the Sign Man) Spore; Economic Development Director Donald L. (Every Deal is Good Except for the Taxpayer) Maxwell; the Department of Social Services which sucked the city into buying the loss leader for $5.7 million in the first place without investigating its feasibility for city use to begin with; and assorted others who didn't know better or care to find out because it wasn't their millions they were blowing.
So remember to support both your local politicians and bureaucrats. We'll tell you how you really got screwed on Town Center soon.
If you like these kind of deals call City Hall and ask that they be made a priority by Economic Development -- Oops - they already are. The question is when is all this type of city dealing going to stop?