VDOT takes the fall. Taxpayers pay the $2.7 million tab for costly paving error on Peninsula section of I-64
VDOT takes the fall. The taxpayers will pick up the $2.7 million tab. And motorist frustration will be extended by an extra 15 weeks. That's the bad news. The good news is that the entire new section of I-64 in Hampton won't have to be ripped up and replaced at a cost in excess of $10 million and delayed at least another 10 months. And VDOT's Chief Engineer of Operations, Frank Gee's resignation was requested and accepted.
Possible good news is that if the problem proves to be caused by the highway designer, Site-Blauvelt Engineers of Richmond, some, if not all of the $2.5 million could be recovered for the state. Phil Shucet, commissioner of the Virginia Department of Transportation (VDOT) said the firm was put on formal notice Aug. 20 that if any part of the problem is tied to their site plans, he will have them reimburse the state for all costs.
2nd I-64 problem: Magruder Bridge
Virginia News Source was the first to report on Feb. 22 that work on the Magruder Bridge over 8-lanes of I-64 had stopped because it unsafe.
That was the bad news. The good news is that VDOT has ruled the problem won't cost taxpayers. Jane Wimbush, district administrator, said the cost will be settled 'between the designer and the fabricator.'
The problem was bad, but not as bad as it could have been: Only one of the pillars was found defective. It was removed and returned to the fabricator in Abingdon, VA to be 're-worked.'
Jane Wimbush, district administrator said Monday, the re-worked pillar will be back on site Sept. 2 and installed Sept. 4. She said if it passes tests, progress will continue.
See also: Magruder Bridge
Shucet came to Hampton Monday to say the I-64 debacle "will serve as perhaps the greatest lesson that VDOT, the localities and the industry have learned in decades. VDOT will be a better agency for it in the long run. The price has been painful, but necessary."
The costly error and potential that the entire new section of I-64 might have to be ripped up and repaved because it wasn't draining was brought to public attention first by the Virginia News Source on July 21.
The roadway was 'flat' and the worst case scenario was to rip up the whole section and repave it VDOT officials told VNS.
Shucet said, "I was told on July 22 that all work associated with the news lanes and should had to be completely removed. I refused to accept that recommendation.
"(At that time) No one could clearly identify the problem for me, let alone convince me that complete removal of the work was an appropriate solution. We had no consistent survey data, and had not taken any steps whatsoever to resolve these inconsistencies. Before taking drastic action, I wanted to make dead certain that we were basing our opinions on facts, not suppositions."
The same day, July 22, Shucet appointed a special panel charged with determining the extent of the problem, recommending solutions, and reporting back to him in 30-days.
Two independent survey teams were hired. Both came to the same conclusions: A drainage system along the shoulder would solve the problem of pooling water. The cost would be about $2.7 million and take 15 weeks to complete, Shucet was told. The Branch Group, parent of contractor E. V. Williams, will pay $45,000 toward cost of the 2 surveys.
Shucet held Gee accountable for this mistake. "His responsibility was to make sure things like the I-64 pavement issue did not happen. When problems are brought to the attention of the chief engineer, indecision at that level is irresponsible."
But in the bigger picture, Shucet held the VDOT 'culture' - the long-entrenched bureaucracy responsible for allow such a situation to occur.
Highway to Hell - Finished
Criminal investigation continues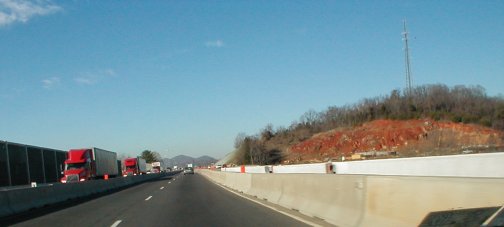 After Virginia News Source started reporting on a long-delayed 5-mile section of I-81 in southwest Virginia, the project was quickly completed.
A criminal investigation by Virginia Atty. Gen. Jerry Kilgore's office is still underway.
The 5-mile stretch took more than 5 years to complete - more than 2 years beyond contract deadline - and went more than 62% over budget.
None of the problems were on Shucet's watch, but he told VNS that it was the worst problem the agency had UNTIL he found out about I-64 on the Peninsula.
Again one of the major problems on this section was a faulty bridge was built and had to be removed and rebuilt over a railroad.
Accountability for that project and its cost won't be known until the criminal investigation is complete.
See also: Highway from Hell
VDOT has long been the patronage plum of powerful and not-so-powerful 2-bit politicians. Supporters wanting cushy government jobs were frequently employed by VDOT. Many of its engineers weren't certified engineers. Problems like I-64 were routinely blamed on contractors as bureaucrats covered their asses with memos, emails, and other paperwork of blame laying while government and contractors' lawyers fought in court over who was right and who was wrong.
Shucet increased the tempo of the message he's been trying to get out to the 10,000 - plus employees of the huge state agency: There's a new sheriff in town and the previous way of doing business is over.
Numerous personnel have been fired or asked to resign in the last 2-years. Shucet is forcing 'engineers' to be engineers 'with certification' to hold the title and have the responsibility. Gee was a sacrificial lamb in that he had 30+ years with VDOT and could have retired @ any time. But holding him publicly accountable for the problem was an unusual action for VDOT.
"This project," Shucet told a packed press conference, "didn't begin with me. It has a long history. The inaction and lack of involvement that brought us here will not happen again under my watch. I realize...mistakes do happen. But, the frustrating thing for me is that this particular situation did not have to happen.
"People in the field, given the proper guidance and support, could have stopped this entire situation from happening, but were unable or afraid to do so because of long-standing central control culture. The field did not fail, we failed the field.
"In the absence of doing the right thing, he made the decision to do the wrong thing..."
"And unfortunately the person I put in charge of changing that culture failed to do so. In the absence of doing the right thing, he made the decision to do the wrong thing - completely remove all the pavement."
Beginning Monday, Shucet said, the nine VDOT district administrators will report directly to him. He said he will clearly define their limits of decision making authority and develop a policy for and support of decision making in the field.
In addition, Shucet said he will use existing vacancies to fill 50 positions for 50 professional engineers with a minimum of 3-years of practical construction field experience. The recruiting will go national within 10-days. They will be actively involved in the 'design process ... hands-on; not bureaucratic, memo writing exercises.'
One VDOT employee noted that 7 of VDOT's 9 districts are already 'overstaffed above the maximum employment level' and are under a hiring freeze. But Shucet said he's hiring the 50 new engineers positions to fill existing vacancies. They will be assigned out of Richmond into the districts to work. The VDOT official said overstaffing with non-certified engineers and old political 'gray backs' are doing everything they can to undermine Shucet's ordered culture change. The current situation keeps younger engineers who support Shucet from being promoted into more effective, responsible positions.
Because problems with finger pointing such as I-64 send contractors into a legal 'hunker' down defensive, deniability position, Shucet said he's going to maintain an arm's length bidding relationship with them, but in October will hold a conference with CEOs to establish a better working relationship once contracts are awarded so each side can freely discuss problems and concerns.
Good news for the future?
Shucet said he will return to Hampton in 60 days with a plan to finally and quickly end all VDOT construction on I-64 'and get off the Peninsula' He said, "I will be back...to tell you specifically how we are going to bring an end to the disruption along I-64 and return that road - all of it - to the people."
See also: