At times last year the line seemed endless for those seeking dental services
Volunteer dentists and staffs put in long hours to provide long lines with free dental care on Eastern Shore
Last year's Mission of Mercy (M.O.M.) Projects by the Virginia Dental Health Foundation (VDHF) broke records for the largest 2 and 3 day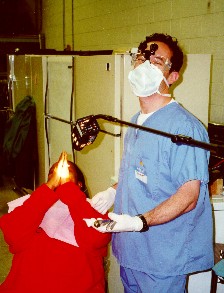 Dentist laughs as young patient pretends to pray before work starts

dental outreach clinics in United States history. They were held in rural, mountainous Wise and agricultural Eastern Shore last year.

The VDHF is an affiliate of the Virginia Dental Association and was founded in 1996.

More than 100 dental team volunteers will be heading back to the Shore March 23-24 at the Nandua High School in Onley to spend their springtime weekend providing indigent dental services to those in need.

Last year the teams provided 608 extractions, 256 restorations, 174 prophys (dental cleanings), and conducted 82 exams for 528 patients over the two day period. This year teams will work Saturday, March 23 from 7:30 a.m. to 5:00 p.m. and from 7:30 a.m. to 1 p.m. Sunday.

The site resembles a M.A.S.H. unit set-up as volunteer dentists, hygienists, assistants, dental MCV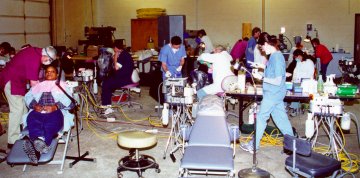 With M.A.S.H. like confusion, teams bring order to flow of dental work

residents, MCV dental students, MCV and VCU hygiene students, and administrative personnel teamed up to provide dental care to anyone in need on the Eastern Shore of Virginia.

As a 501(c)3 organization, the mission is supported by by grants from the Virginia Health Care Foundation which aids in the purchase of supplies such as portable dental equipment, hand pieces, and dental supplies. Delta Dental of Virginia, a dental insurance company, provided grant funds to purchase a trailer to transport and store dental equipment.

Technicians really get in face of patient
Partnering organizations include Virginia Commonwealth University/Medical College of Virginia School of Dentistry, Virginia Department of Health, Virginia Chapter of March of Dimes, Old Dominion University School of Dental Hygiene, and Pfizer Inc.
Ms. Samantha Paulson, a spokesperson for the VDA said it is estimated, based on the 2000 population projections that 1 in 4 Virginians lives in an area underserved by dental services. A Joint Commission on Health Care in 1999 indicated Virginia has 43 'underserved' areas. An underserved area, she said, is defined as one where the dentist to population ratio exceeds one dentist for 5,000 or more individuals.
For additional information: Virginia Dental Association