Candidates use city property and equipment for political sign operation
Maddox says he has always used the city's property as his own
and WTKR-TV's news bureau telephone for political calls

Political signs share trailer on city property with Beach Street USA signs in Beach Events trailer
Beach District City Council candidate Richard Maddox and at large candidate Peter W. Schmidt have set up their political sign operation in a trailer Maddox says the city owns on city property at the 17th Street Park on the oceanfront.
Maddox who owned the property gave it up as a public park in a rare sweetheart deal with City Council in 1994 in exchange for a zoning reclassification allowing him to build, a Dairy Queen ice cream store, on the east side of Atlantic Avenue.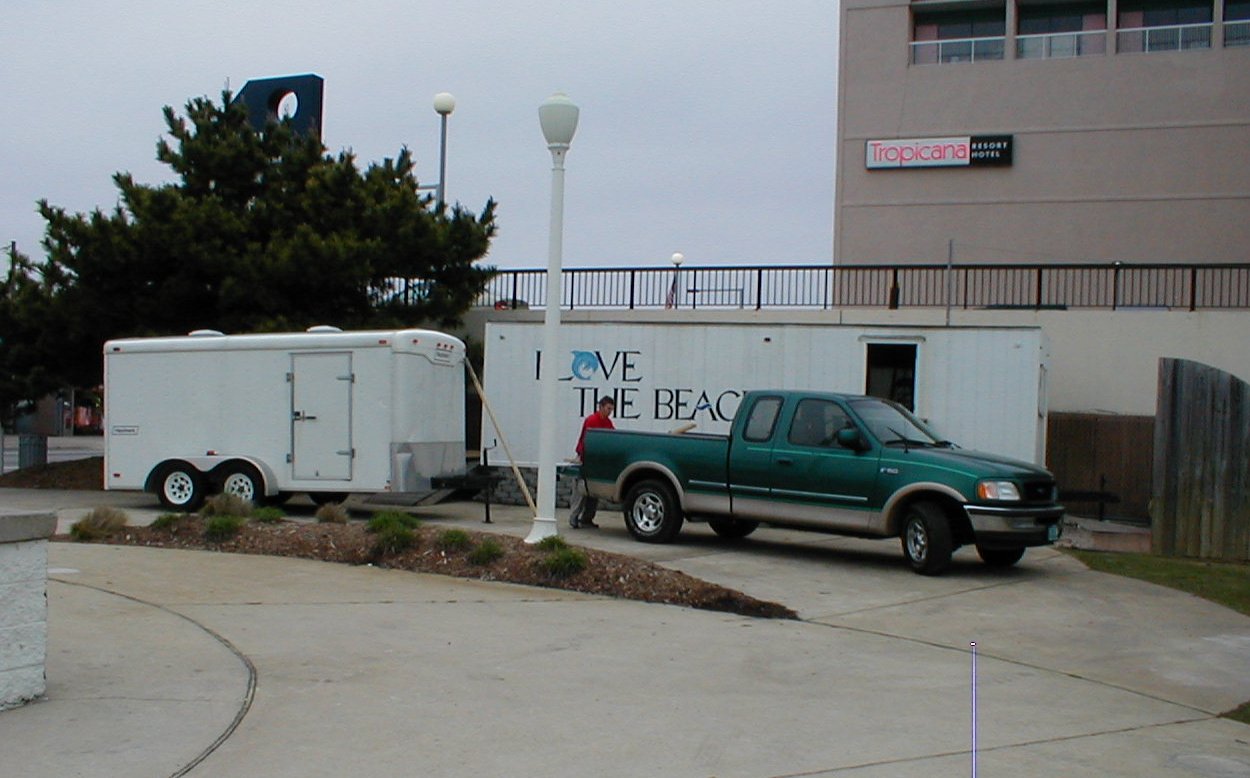 Maddox employee loads political signs in Maddox's truck from white Beach Events trailer. Maddox's lawn trailer is on left.
Zoning prohibits stand alone restaurants on the east side of Atlantic Avenue, but the city made an unusual exception in Maddox's case. As part of the deal he was also required to build a performance stage and operate public restrooms at the 17th Street location.
He also was $115,000 in tax debt at the time and the city made him pay the back taxes as part of the deal. But the city then turned around and spent $130,000 to demolish the old restrooms at 17th Street.

Less than 30 minutes after telling VNS there was nothing improper with his use of city trailer and property for his political signs, Maddox had workmen Sunday empty trailer and put signs in Dairy Queen
The pictures of the political use of city property were taken before noon last Sunday, March 31, and this Sunday. They show 2 trailers on the city's property - one a white permanent trailer used by Beach Events which has a contract for oceanfront entertainment, and the other an enclosed gray aluminum trailer, owned by Maddox.
Maddox defended the practice Sunday in a telephone interview saying he owned the property and had always had access to it and used it for his personal use. Trash dumpsters for his Dairy Queen are also on city park property. He said he always has parked his trailer and pickup truck on the property.
He first indicated he used the Beach Events trailer to store his lawn maintenance equipment, but later indicated that his lawn equipment was in the gray trailer. Beach Events only uses the trailer and park 90 days out of the year.

City trailer where Maddox and Schmidt stored political signs, left; Maddox's lawn maintenance trailer that he 'stores' on city property, foreground
He acknowledged he did not have any written agreement to use city equipment and property. "I have a gentlemen's agreement with the city," he said, to use the property.
But less than 30 minutes after talking with VNS, Maddox had two workmen empty the city trailer of political signs of his and Schmidt's and stored them in the Dairy Queen.
---
Campaign has also been using WTKR-TV's news bureau phone for political calls
---
WTKR-TV News has a 'beach' bureau in Maddox's Dairy Queen and his campaign manager Peter Lawrence has been making campaign telephone calls on WTKR's telephone. Asked about it Sunday, neither he nor Maddox were concerned. They said they have a 5-line telephone system at the Dairy Queen and that the lines might 'roll over' automatically to WTKR's phone or Maddox said, "Peter may have just pushed the wrong (telephone) button," in making outgoing calls.
WTKR's news director John Wesling could not be reached for comment Sunday afternoon to discuss the propriety and journalistic ethics of having a news bureau in political candidate's office where its telephone is used for political calls.
Photographs used with this story were taken by VNS staff and are available for free and fair use without further permission by candidates or media with credit to the Virginia News Source
Efforts to reach City Manager James K. Spore to determine what action he planned to take in the misappropriation of city property, were unsuccessful. Spore does not like political signs that are contrary to positions he takes. For example, he went on a rampage against political signs in 2000, stopping to tear them down himself and stuff them in the back of his little white Corvette because they criticized the city's 31st Street hotel project with its convict partners. He did not return calls left at his home.
Also efforts to reach Director of Tourism Jim Ricketts, City Attorney Les Lilley, Robert Melatti, who runs Beach Events, and Schmidt were unsuccessful.
Maddox is opposed in the May election by Richard W. "RK" Kowalewitch, a surf shop owner, and Samuel B. "B.A." Andrews, an insurance salesman.
Kowalewitch released to the media recently information that he was delinquent in his taxes on his surf shop by $15,337. Kowalewitch blamed the problems on the city shutting down the beach area to traffic during a holiday weekend and other city practices negative to small businesses.
Schmidt is opposed by 8 others in the race for two at large seats. His opponents are Rita S. Bellitto, Robert M. "Bob" Dyer, Andrea Kilmer, Page G. Lea, Carolyn R. Lincoln, A. F. "Mike" Mitchell III, Wendell E. Parker, and Ron A. Villanueva.