Portsmouth-based Town Bank to anchor northeast corner of Town Center project
Town Bank is expected to begin construction on a new building as part of the Town Center project by late summer.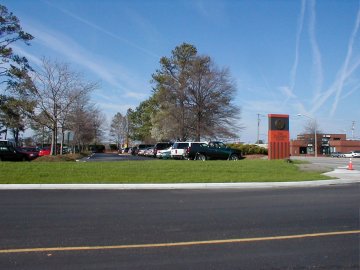 This lot along Constitution @ VB Blvd. will be developed into strips with Town Bank at far end
It is the second financial institution to reportedly be locating at Town Center. Virginia News Source earlier this week reported that Resource Bank with links to important people involved in the Town Center development, the City Council, and Resource Bank plan to have the bank locate its headquarters in the main tower where it will get reduced rents and naming rights. (See: Resource Bank in Town Center's).
Bob Ashton, president of Town Bank, said his bank had acquired the northeast corner of the project at the corner of Virginia Beach Boulevard and Constitution Dr. - opposite Pembroke Mall and Chesapeake Bagel Bakery.
Ashton said he'd look at the prospects of going in the main tower, but concluded that since Virginia Beach is still a suburban city, Town Bank would be better off in its own separate building. The building will be about 8,000 square feet.

Town Bank will occupy this corner of Town Center
Town Bank, aggressively growing and heavily marketing its small town touch and service, has banks in 6 locations and mortgage offices in 14 different William E. Wood & Associate Real Estate offices, Ashton said.
He said plans haven't been finalized as to whether it will be a free standing or connected to others in the strip. "The city sort of envisions a cityscape along there. The problem is that Armada Hoffler doesn't have its plans finalized for developing that block and that is delaying our plans," Ashton said.
Ashton said he didn't see any problems with having Resource Bank in the main tower. "That won't affect us in any way," he said. "It looks like they are going to have some very nice retails surrounding the center."
Kris Inderlaid, director of marketing at Town Center for Armada Hoffler, said, "We're ecstatic they're coming. We think they are going to add a good element to the entire project."
The timetable for Resource Bank is not known. Bank President Lawrence Smith would not deny the reports, but would not give any details of the plans.