They are hot. They are talented. All, but one a teenager. That one being vocalist, Vickie Blakley,30, a voice to be heard, who already has one album to her credit.
And the youngest is the bright, beautiful, talented, playful mandolin and fiddle player Sarah Fletcher (Tennessee Fiddle Gal to ya all!) of Church Hill, TN, who has the potential of raising the band to new heights. The Twin Springs band has become the darlings of everyone who's seen and heard them. And they are the band to be both seen and heard.
Not bad for a group that only made its first public appearance June 17 at the Natural Tunnel State Park 'Pickin in the Park' Bluegrass concert series outside Gate City, VA. They appeared with Papa Joe and Doc Smiddy, Bluegrass legends in their own right, but it was Twin Springs alone that got the standing ovation.
Since then the appearances have been numerous: the Birthplace of Country Music Alliance (BCMA) museum's concert series; featured on Tim White's Bluegrass Show on WGOC Radio, homecomings, local festivals, churches, and the granddaddy of them all in southwest Virginia - Carter's Fold.
Todd - fiddle
In fact, Joe Carter of Carter's Fold has allowed the band to use one of the songs he's written and Mark Brinkman, of Ohio, who writes for Blue Highway , is also allowing them to use one of his songs.
Matt - banjo
Members of the band include Todd Meade, 16, award winning fiddler who also plays banjo; Matthew Cruby, 17, fantastic banjo player who can play about any musical instrument he can touch; Wesley Fletcher, 17, guitar; Blakley, bass and vocals; and 15-year-old Sarah, an award winning mandolin player and fiddler. Sarah is the mouth of the band. The youngster with innocence, charm, playful personality, and easy smile that establishes the rapport with audiences.
As the band grows its members would be well advised to force Sarah to the forefront as its liaison with the audiences.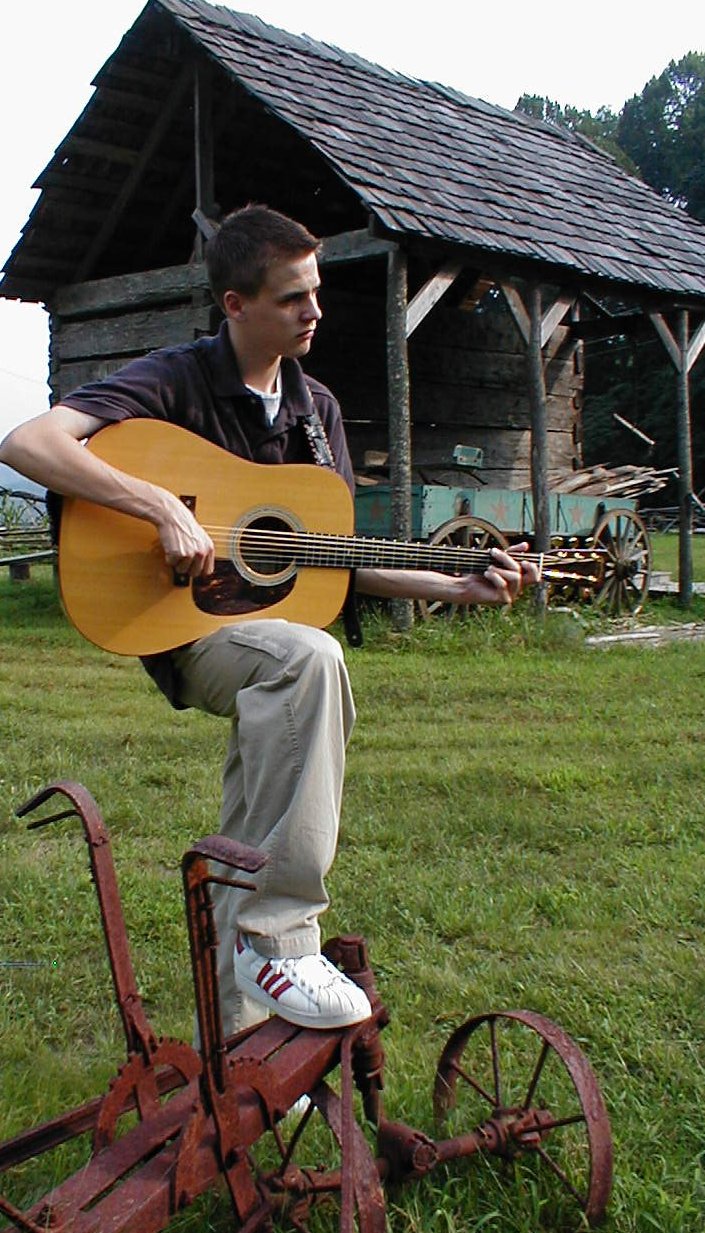 Wesley - guitar
It is a known fact that some of the most talented bands or musicians never become famous. Instead it is the musician or band that best communicates with its audience and Sarah Fletcher is the one who does that for this particular band.
Todd, Matt, brother Wesley, and Vickie can have a lot of fun playing off Sarah's natural humor and teasing personality. Audiences would love it. She is also the most accessible as far as communicating scheduling, interviewing and providing information to the media.
But when it comes to music they all have it together. They probably would also be well-served by having one of their parents or someone to act as manager, scheduler, booker, and scout for venues that would promote their talents.
Vickie Blakley - vocals
The band was originally formed back in the spring to do a concert to help raise money for a school's honor society "and grew from there," Sarah said.
She and Todd, want to teach music. "I'm too young to get a job like some of the others, but at least I can teach fiddle," she said. Wesley is already teaching music at R. A. Hick's School of Music.
Todd and Matt both attend Twin Springs High School in Virginia and Wesley and Sarah attend a private, Christian school. Todd won a scholarship from Wayne Henderson. "By going to the private school," Sarah said, " the faculty is more cooperative in working with her and Wesley's activities than a public school would be."
Blakley won 1st place in the Netherland Inn Fiddler's competition (local division) for the past 2 years and 1st place in the vocal division at the Appalachian District Fair in 1996. A talent waiting to be discovered, Blakley has been nurturing her musical career by singing in churches and at weddings for the past 10 years.
At a recent photo shoot at The Homeplace Mountain Farm and Museum at Wadlow Gap near Weber City, VA ,the band spent more time in teasing each other and engaging teenage antics than in getting their photos taken. They are all wonderfully talented free spirits - the embodiment of the ability to demonstrate the culture of Appalachia through the music of their homeland - clean, clear, crisp, uplifting and beautiful.
This band of youngsters have it together. They are trying to arrange participation in the Smithsonian Institute's Folklife 2003 national celebration of the 75th anniversary of country music. The Smithsonian's June and July concerts on the mall that year will feature and music and culture of Appalachia. The climax will be its annual 4th of July concert on the Mall. (see: 75th anniversary celebration plans)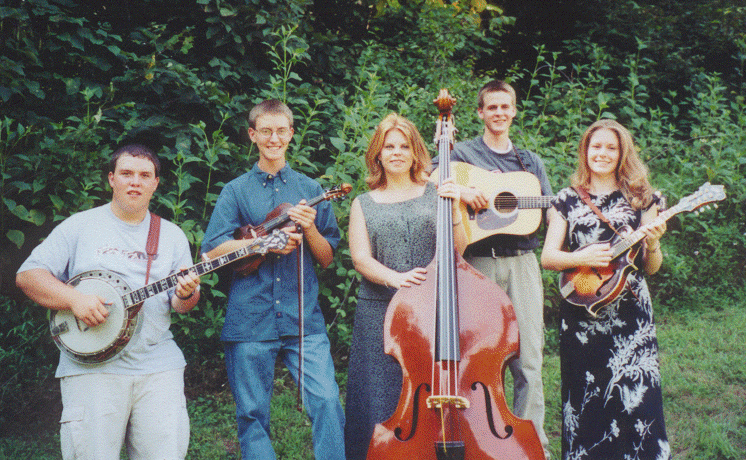 Matt, Todd, Vickie, Wesley, & Sarah - The Twin Springs Band
A yearlong gala celebrating the 75th anniversary of country music begins in July of next year and culminates on July 4, 2003.
Congress, through resolution, has officially credited Bristol, TN-VA as being the birthplace of country music. It was there in 1927 that A.P. Carter and wife, Sara, of Hiltons, VA and Jimmie Rogers traveled to Bristol where they recorded the first commercial country music record. (see: Carter's Fold story)
They started a movement and tradition that has continued ever since. Broader national interest was recently re-generated with the George Clooney movie O Brother, Where Art Thou? that featured the revival of numerous old time country favorites.
And it is that inbred talent, love of country and music that is exhibited by the up and coming Twin Springs Band.