The Carter Family Fold
When A.P. and wife Sara Carter joined Jimmie Rodgers in a recording session in Bristol, TN in August 1927, they became the first commercially viable 'hillbilly musicians.'
A.P. and Sara's daughter Jeannette and her brother, Joe, now carry on the family tradition in a rustic wooden, barn-like shed up the hollow toward Hiltons, Virginia on the side of a mountain along a narrow, two-lane road.
From June to September, performances are held every Saturday night beginning at 7:30 p.m. Admission is $4 for adults, $1 for children 6-11 years of age, and free for children under 6. A museum next door opens at 6 p.m. Museum admission is 50-cents.
The 27th Carter Family Memorial Festival & Craft Show will be held August 3rd & 4th from 2 p.m. to 11 p.m. daily. Admission $10/day or $18 for both days and children 6-11 are $1/day.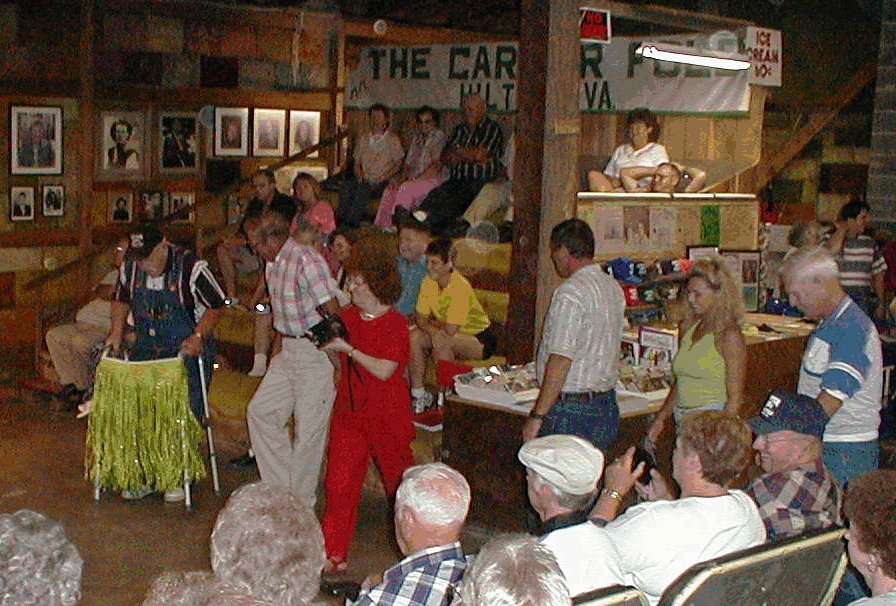 Joe Carter is the hillbilly comedian and on a recent night, he took his walker with a plastic hula skirt attached to the floor to join other dancers. It is suggested you arrive by about 7 p.m. The Fold is usually packed. Recently, folks showed up from as far away as England and from almost every state in the lower 48.
In addition to the announced bands, it is not unusual for one of country music's superstars to 'drop' in and put on a performance. Superstar appearances, including family king, Johnny Cash, are NEVER announced in advance.
Many of those attending come with their taps and hit the dance floor when the first note is struck Many are regulars who spend their entire evening dancing every song. The only ones not dancing are the city slickers, but even most of them can't resist.
Joe and sister, Jeanette, and the entire Carter family are dedicated to the preservation and furtherance of traditional acoustic mountain music. Its programs are partially funded by the National Endowment for the Arts and The Virginia Arts Commission.
This is a 5-star, don't-miss-it opportunity to experience the origin of country music from its Bluegrass roots.
Bluegrass main page Home Venues Twin Springs Band